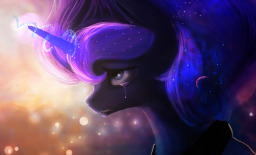 Source
This story is a sequel to With Tears in Her Eyes
---
Okay, fine. Here's something new to follow up on the last one, it was sort of half finished at the time anyway.
It is a time of celebration, of honor and joy. But is it really?
Twilight Sparkle has been a Princess for the better part of a year now, and Celestia has a gift made in honor of Equestria's newfound Princess of Friendship, as well as the Elements of Harmony. The Princesses and the Mane 6 have been gathered in the courtyard of Canterlot Castle with the townsponies for the grand reveal of the decorated statue paying homage to Twilight and her friends.
But after the ceremony, and the others have left, Cadence finds Luna staring forlornly upon the statue and decides to ask the Moon Princess what is troubling her.
NOTE: This needs to be edited, like all my other stuff. PM me if you're interested.
Prequel:
With Tears in Her Eyes
Sequels:
Tantabus
The Flower's Grove
Chapters (3)