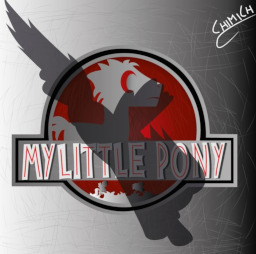 Four years have passed since the Manehatten Incident. The whispers of Site B have died now, finally giving Princess Twilight Sparkles and her friends peace. However when two old acquaintances offer her a chance to get much needed funding for the Library and the Wonderbolts, she cant say no.
However once on the island things begin to go horribly wrong. Her host aren't who they claim to be, and now Twilight, Rainbow Dash and Pinkie Pie must relieve their worst nightmare: survive Jurassic Park.
What to do when there's something BIGGER stomping around?
Cover art (C) chimich
Co-Author: HTKWolfe777
Chapters (10)