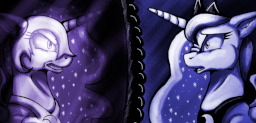 Source
"What do you wanna be? The Princess, everyone adores? Or the monster, that you are supposed to be?"
Nightmare Moon. For Luna this name fills her with shame, regret and hate. After the Mane Six purified her from her worst nightmare, the true suffer begins. Luna's guilt plagues her together with the question, if the ponies will ever see her as the Princess and not as the monster, she had been in her past.
When Ponyville is inflected by a rare and strange disease, Celestia has to clear the air. She too has comitted a sin in her past and now her mistake threatens the life of so many ponies, even children. Celestia asks Luna to find the Elements of Disharmony, which has been lost decades ago. But sadly someone else is after them as well.
Can Luna find the stones? Or will her enemy be faster? And during her search, will Luna ever be able to see beyond her past and face her greatest fear? Will she return as the Princess, everypony adores, or as the monster, everyone has seen in her?
AN: This story will have a sequel. It was inspired by the fanfiction Past Sins by PenStroke, the movie Balto and my own Headcanons. All characters belong to Hasbro and Lauren Faust. The OCs Brightwisker, Dead River, Cobaltwave, Sharp Sword, Amentia, Deimos and Phobos belong to the author.
The story is on hitatus, because at the moment I am not really in the mood for continuing it. Probably also because so less people read it.
The coverimage is from InuhoshitoDarkpen.
Chapters (8)