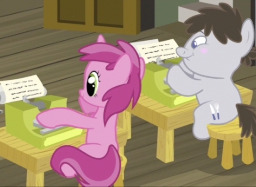 So, there's this tumblr called Thirty Minute Pony Stories, full of fun prompts where you read one, and then have 30 minutes to write it. So I did a bunch of random ones. And here they are! Below are the actual synopsis and tags for each story.
#41: Memories of the Sun
Tags: I have no idea.
Synopsis: Celestia remembers.
#52: The Show's About to Start
Tags: Tragedy(?)
Synopsis: Trixie becomes great and powerful.
#74: A Special Engagement
Tags: Romance
Synopsis: Pinkie Pie's peculiar proposal
#191: A Cry for Help
Tags: Comedy
Synopsis: Dear Elements of Harmony...
#550: Itty-Bitty Living Space
Tags: College AU
Synopsis: Two or more of the Mane Six move in together.
#522: Reign Names
Tags: My Current Canon Kinda, Exposition Stuff
Synopsis: Celestia and Luna have not always been called the same names in every place and in every age.
Chapters (6)