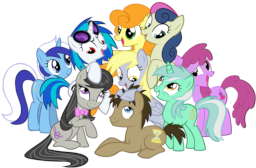 Source
Due to the many times they have saved both Ponyville and Equestria, the Mane 6 is getting a weekend vacation, all expenses payed, from the town. When something attacks the town, it's up to the minor characters to save the townsfolk and themselves.
THERE IS A SEQUEL HERE: http://www.fimfiction.net/story/50052/The-Zeppos
Originally this was written as a script for the Summer Funimation Screenwriting Contest, and I'm working on rewriting in as a fanfic. The change is style requires a change in mindset, so please give feedback to help me with the process.
Chapters (6)