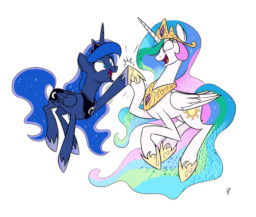 Since finding a portal that connects their castle to the home of a human named John, Princess Celestia and Princess Luna spend their free time exploring John's home and discovering exciting new things. But they tend to leave their diligence in the details at home. After all, it's a vacation, what could go wrong?
====
I don't know why I wrote this. I'm sorry. Not sorry.
EDIT 9/23: Holy cow, featured! Thanks everyone!
Chapters (1)