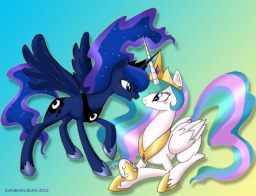 Source
A relatively normal day is disrupted when Luna learns that Orcus, the Demon Prince of Undeath, has escaped from Tartarus and is making his bid for conquest, starting with Ponyville. More horrifying though... is that fact that only she seems to care. Time is of the essence, and no one, Celestia included, seems worried about the impending disaster. Will Luna be able to rally the army, shake the citizens of Canterlot from their strange apathy, and save the day?
No. No she will not.
Everypony in this town is crazy.
(Special thanks to my Prereaders, many of whom do not have accounts, for convincing me this fic didn't suck. Also, thanks to Danmakuman for the cover art!)
Chapters (1)