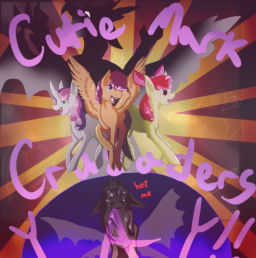 Faust and Godcat help me I'm writing an Arcane Shadow sidestory make it stop. Teen/dark for some themes congruent to Arcane, but not enough for a higher rating. Takes place during Arc VI of Arcane Shadow, and contains spoilers therein. Tagged with profanity for later chapters, coming from the Fantasian side of the fence. I will be updating in bursts; when I finish a whole day, and it's been combed through, all three parts of that day are gonna get uploaded simultaneously. Preread and edited by Samey90
Autumn break has come to the schoolchildren of Ponyville, and the foals are left scratching their heads and hooves as they stumble about mane over tail to find just the right place to make their brand new essay—that's due the first day after the break ends. The assignment? Find and gather the history of a given locale or country, summarised and with references all neat and tidy. The catch? Whoever does one on a Fantasian country or somesuch will receive extra credit; group projects are allowed, and even encouraged.
Naturally, given the fact that the barrier between the sister planets only recently broke, uh… oh, some months ago—who bothers to keep track of these things, and who expects a bored child to do that? Most adults certainly wouldn't, even outside of Ponyville's borders—there's no way to do the deed. Nu-uh, not in the grooves of Celestia's front left horseshoe and certainly not within Luna's front right. So how is it that mere schoolchildren are able to hitch a ride to and back between the planets, when they can't afford their own air vessel with the horsepower to take them to and fro within the span of a week?
With a little bit of chaotic magic from Discord, the CMC find themselves transported to the Fantasian militaristic city-state of Irongrey Aerie to complete their assignment—unwittingly, the same exact night Lance, the Bearers of Harmony and their combined cohorts return from an expedition to Greenwood gone catastrophically wrong. After receiving word of the project, its nature, and what exactly is needed to complete it, Lance complies… but whom does he assign to watch the CMC as they fill their papers with the necessary knowledge being stuffed into their ears?
Katie Rubywing, recently-conscripted ice wraithling that's also older than they are. May Godcat and Faust have mercy on her.
Chapters (24)