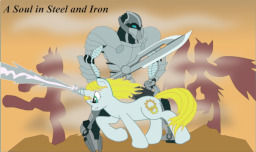 Source
All I want to have is a nice boring, normal day at the library, but I couldn't do that anymore when I got hit by a car. However, as I felt my world around me fade away and as I was staring at the light at the end of the tunnel... I made a wish; To live more of life. I was then spoken to from a being called Karma and he offered me my wish, another chance at life. Of course I accepted, thinking I was getting a second chance to live, which I did, but I wasn't expecting my second chance at life was to wake up in a body made of cold steel and iron.
This is my story of how my life went from ordinary to just plain downright weird very quickly.
Opening song that fits this story
Credit for the awesome cover art goes to DreamActualizer, and I have this is surely awesome for his first time on something this big.
Story is set in the 'Chess Game of the Gods' universe created by Rust and Blackwing, with only a mild amount of gore, but will change the rating if needed.
Given the seal of approval by Troutking.
Edit: Holy Moly! This story reached the feature box on 12/2/12, thank you all that are reading this story, you just made one very happy author.
Chapters (9)