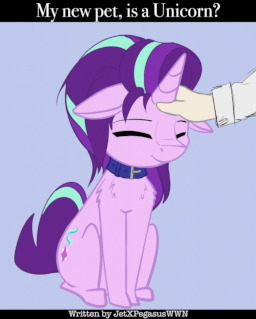 Taking the suggestion from his childhood friend Anon decided to go to a place called
"Armies, pet store"
To get a new pet that his friend kept suggesting; so he drove over there to see what kinds of puppies or cats he'd like to take home with him. Suddenly, as he walked by all the dog kennels he spot something in the corner of his eye and whatever it is... it was no dog? No. It was a 3 foot tall unicorn mare.
Where did it come from is unknown—but How will the bond work between him and this unknown beauty?
---
A/N: This is a rework of the story that got so much love from you guys. There will be a bit of changes within the chapters so heads up on that. Enjoy!
Chapters (4)