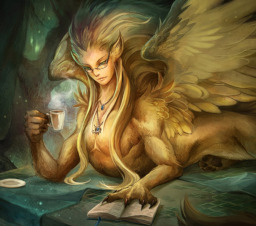 When you're unemployed, life tends to suck a little. Especially when no one is hiring at the time, friends have moved somewhere far from you, due to life and work, and the rent is due tomorrow...
And then you see an add on the paper, that looks like a reasonably good job-offer, so of course you'd give it a shot... Only to be changed into your heavy homebrew d&d character after a single phone call, and charged with guarding two powerful relics: A True Magic Mirror and The Tablet of Secrets.
Oh and also getting re-located in another world, where ponies and other magical creatures live. Guess I shall see how will they answer my riddles... Or pay me a toll, whether they be commoner or royalty...
---
Displaced/Isekai'd protagonist warning.


Tags and rating MIGHT change as the story progresses.
Edit: Huh? This got Featured on its first day? Surprised

And got hot too?

Chapters (9)