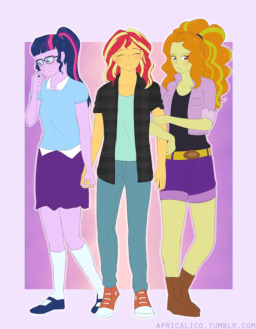 Sunset Shimmer's relationship with Twilight Sparkle and Adagio is everything she could wish for. Both girls make her happy beyond words... except when they're all together. Something goes wrong as Sunset tries to spend time with the two of them and despite her best efforts, the chasm only grows wider.
---
Originally written for Sunset Shimmer Shipping Contest: Journeys. I couldn't finish it in time due to life problems, but here it is.
Huge thanks to Krickis and Char-Char-Chan who helped me tremendously with the writing of this story. I couldn't have done it without them.
Also, many many thanks to Apricallico who did this superb cover in a pinch.
There is no sex scene in this story, only heavy flirting from somesiren.
Chapters (3)