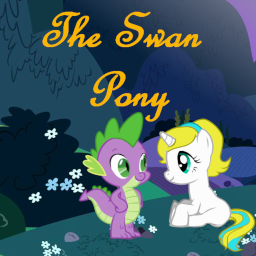 A "The Swan Princess" crossover/parody. (I'm not sure which.)
As his friends prepare to go to Manehatten for a ballet, Spike comes across a frail swan in the Everfree Forest. Determined to help, he takes care of the swan while his friends are away.
The night after his friends depart, however, the swan makes its way to a pond and transforms into a filly when touched by moonlight.
Now, Spike must discover how to break Pirouette's curse before the wicked mare who cursed her finds her. While at the same time, developing feelings for her?
---
Title card created with Pony Creater by generalzoi and Medibang Paint Pro.
All OCs belong to me. The rest belong to Lauren Faust and Hasbro.
Chapters (3)