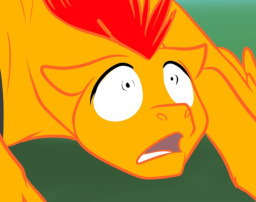 Rapidfire was a horrible pony. Selfish, narcissistic, and insubordinate, his crimes against his fellow Wonderbolts were in too great of numbers to be listed. And when his former Squadmates run into him during their war with the Shadwbolts, they capture and subdue the orange Pegasus, locking him up as both a convict and a Prisoner of War.
As the days slip by, Rapidfire's arrogant delusions slowly melt away as he begins to realize that it's too late to regret anything he has done to land himself here. Even now, no one is there for him as he breaks. Rapidfire realizes that there is no more chance for him ever again, and the hopelessness of it all is just too much.
But with the help of one pony, maybe it won't be so hopeless after all. At least, it won't feel that way.
An alternate timeline for Calm Wind's Wonderverse—an AU of an AU; inspired by the From Ashes To New song of the same name.
Chapters (1)