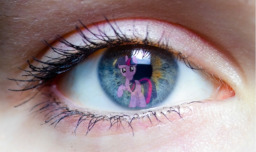 As far as antagonistic, anti-social teenagers went, I always figured I was relatively normal.
Aside from the fact that I talk to myself in my own head way too much.
And my thoughts are always like wildfires that can never be stopped, never be controlled.
I did say relatively.
Until I woke up this morning with a pink and purple stripe in my hair and Twilight Sparkle's voice in my head.
I knew my mom should have listened when I said there was something wrong with me... Now I'm actually, certifiably, insane.
Probably.
Featured 11/11/14 - 11/14/14
Chapters (3)