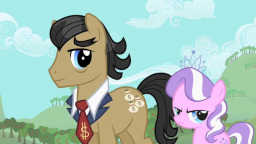 This story is a sequel to Numbers
---
Eleven years ago, a young stallion named Filthy Rich became a father.
His daughter was his most prized jewel...
And he swore he would always love her.
One morning that stallion's filly brought a grown mare to tears,
And Filthy Rich was forced to see his Diamond through new eyes.
Now, he must find a way to bring out the sparkling gem only he can see, before Diamond Tiara destroys her classmates... and herself.
If that gem even exists at all.
But raising a child isn't as simple as working out a business deal or solving a financial issue, and Filthy Rich must relearn what it means to be a parent if he ever has a hope of redeeming his daughter.
For the price of an innocent foal's tears is more than even he can afford.
Featured 5/27/14 - 5/28/14
Chapters (3)