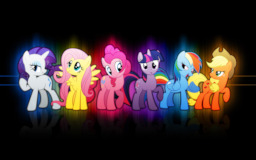 After a incedent where pinkie breaks the 4th wall, I get sucked into Equestria, and have to adapt to living as a pony, and make plenty of new friends. And play a hell lot of video games
I suggest reading ' Pinkie Pie Discovers A 3DS' First to get the back story of how I got to Equestria.
Massive thanks to editor Joy Stick, you'll probably figure out that he edited it in the story.
Chapters (1)