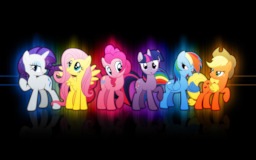 Source
Twilight has invited her friends over for a sleepover, and things quickly turn to video games. Will they all succeed? Will they fail? Will they actually make it out of twilights without doing a rage quit? Find out in this fic!
Inspired by My Little Pwny and Rainbow Dash's Lets plays.
Cover art by Episkopi on DA
OC's made by Joy Stick and Dj Vinyl Scratch.
First fic, hope you enjoy!
Chapters (5)