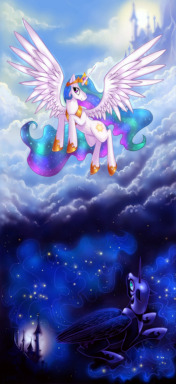 Source
This story is a sequel to The Perfect Night Sky
---
(Chronologically, it is a prequel, but this is meant to be read after)
A socially awkward bookworm devoted to math and science. A carefree jester determined to prove her leader capabilities. When they took the challenge of becoming Princesses of Equestria everything in their lives changed forever. Did they changed in the inside too? What happened when the pressure of being rulers became too much? What went through their minds as they went through the hardest part of their lives?
An experimental writing that tries to look only inside the minds and through the eyes of the most powerful beings of Equestria as I guessed them from season 1 and 2. My imagining of the events that lead to Nightmare Moon's banishment, and a big sister's struggle to get her sibling back.
Thanks to my great friend PhilomenaSage for her edition skills.
This is a work in progress, therefore any comments, corrections and critiques are more than welcomed. =)
Art by Limrei. http://limreiart.deviantart.com/
Chapters (4)