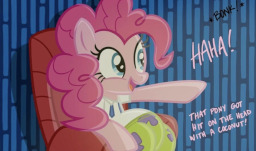 This story is a sequel to My Little Pony: Square Pants Are Magic
---
In our world. Many deep philosophical questions have come along that have transcended the dimensions of space~ This...This r e a l l y isn't one of those times.
Listen up now, girls and boys, it's time to take some pics~♪
Cuz ya boi is back, and are gonna rap all about some fan fics~♪
For the SpongeBob MLP sequel, so fun it should be illegal~♪
Who needs real life issues when you got NSFW tissues??~♪
Holy toledo, mannnnn, look at them episodes, mannnn~♪
Typing away while I get my ass kicked by real life~♪
Stand up, well done me, I think I earned myself some tea~♪
What a legacy of NFC, now let the song crescendo~♪
Aight' enough referencing Hot Chocolate Party. Basically yeah I'm back and I'm typing again. So yeah, enjoy the eventual redux to come and send those suggestions peeps. I'll get to em' when my job ain't kicking my ass.
Chapters (2)