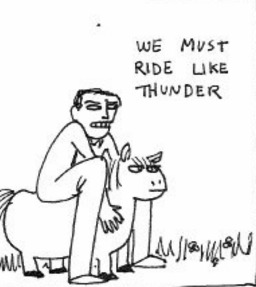 Source
You wake up in an unfamiliar place. It is a warm and cheerful place. It is a place filled with friends. Something feels empty. Something feels wrong. You seclude and distract yourself. You master new skills. Perform great works. Earn the fear and adoration of those around you. Something still feels empty. Something still feels wrong. Maybe it's the new world. Maybe it's the loss of your old one. Maybe it's something inside you. Maybe it's something you can unlearn. Maybe it's something so fundamental you can never get rid of it. Maybe it's just a feeling, passing along on a breeze, that stuck to you as you walked by.
I have had this thing inside me for two years now just sorta fermenting and now I'm evacuating it onto paper with my two human arms that I own. It tells the tale of a man named Johnathan Siegsmith who finds himself in an unfamiliar world, uses his knowledge to further himself, and comes to know despair.
The biggest and most recent inspirations for this story, respectively, are Steel Sanctuary by writefag_is_kill and Isolation by Rimmy.
Chapters (17)