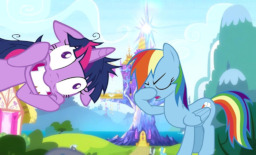 Rainbow Dash has made a mistake. A nearly-fatal mistake. And now, she's forced to go on an... adventure... with Twilight.
She regrets severely her decision to go. Not that she really had one, of course.
----
My entry into The Comedy (Is Serious Business) Contest, hosted by our dear, beloved Aragon.
----
Editors: You really think I had editors for this?
Chapters (1)