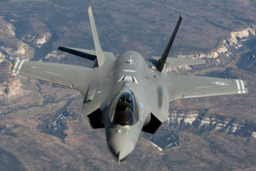 JSF F-35B Pilot, Captain Lisa "Sapphire" Johansson was shot down and killed by Russian Su-98s, at least that's what the records state. In all actuality that's not what happened, through seemingly divine intervention she wound up in Equestria, which happened to occupy a totally different dimension and was accessible by use of an extremely advanced and complex spell that was placed on amulets, allowing access through use of an incantation.
That divine intervention was in the form of two Wonderbolts, Spitfire and Soarin. The former was investigating the possibility of using areas of Earth that had little if any human population for training Wonderbolts. While Soarin had accompanied her up into the Great White North of Canada, in the year 2020. However it happened to coincide with the Russian Invasion of Canada to claim the oil sand deposits.
However, after rescuing Sapphire from her downed F-35B Lightning II, they discover that her injuries are incredibly severe and that it would be impossible to get her to the nearest town on Earth to receive medical treatment. They make an incredibly tough decision, one that changes Sapphire's life forever.
Despite the incredible change to both her physical body and species, Captain Johansson isn't about to let a second chance at life get away from her. After all, rarely do you get a second chance to continue living.
That is if she doesn't go insane from the daily insanity of a certain small-town near the capital of Equestria.
Note this is a crossover with the novel Tom Clancy's Endwar.
Chapters (7)