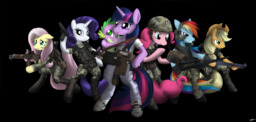 Credit goes to CorruptionSolid for the picture! http://corruptionsolid.deviantart.com/
WARNING!!! THIS IS A SEQUEL!!! THE FIRST FIC IS BY FRIENDLY UNCLE AND TITLED, "The Creature that Came to Ponyville". Do NOT read my fic, unless you have read Friendly Uncle's fic first, please.
This sequel takes place four months after the events that transpired in "The Creature that Came to Ponyville".
What's happened since "The Creature that Came to Ponyville"?
Celestia's feeling of unbalance has not dissipated, like she believed that it would when Scuttles was dealt with.
Fluttershy has become slightly, mentally unstable, due to the emotional scarring of Scuttles.
Equestria's relationship with the zebras has grown rocky, concerning coal. (A hint towards Fallout: Equestria's origins but in no way a fan's, unofficial prequel)
Twilight and Spike were called back to Canterlot two weeks after Scuttles was dealt with.
Princess Luna revealed to Celestia that Equestria's energy crisis might be averted with a deus-ex energy source on the moon.
A colony was established on the moon to extract said energy source, with Twilight as the director of the project which is funded by the company, Neighland-Yutani.
Four months later, contact with the colony is lost.
The mane five are assembled to rescue Twilight and any other pony from the possibility of another xenomorph infestation.
Chapters (6)