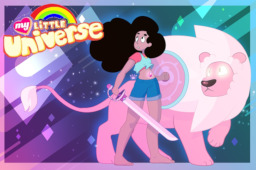 This story is a sequel to My Little Universe: Season 3
---
Summer's around once again, and it'd been about a full year since the Mane Six first met the Crystal Gems. So much has happened since them, from Earth, to Homeworld, to Equestria. So much fun, adventure, and danger had come and go. The Gems and Ponies are here with their next big thing. They've gone all over the galaxy so far, and now they got their next surprise right back at home. Now they got the first ever Human-Gem fusion in history! With one half a full human, and the other a hybrid to begin with, this fusion's got a lot to learn about the world.
Oh, and Homeworld can visit Earth anytime they want to now, thanks to their own little Warp Pad, curtesy of our favorite Draconequus. Yep, there's that ...
We're in for a heck of a ride, aren't we?

Chapters (23)