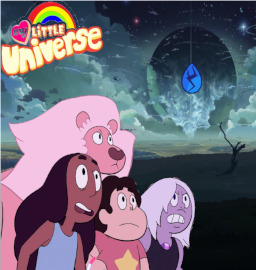 This story is a sequel to My Little Universe: Season 4
---
Welcome Back, Gems!
It had been a bit of a roller coaster for Everybody and Everypony, hasn't it? Months past since they've face White Diamond, and spring had returned once again to both Earth and Equestria, but not without more trouble. With Lapis and Jasper missing, now they have a "cluster" to deal with that could destroy the whole planet, along with more corrupted Gems, and mystical creatures appearing on Earth, and Homeworld alike! And to top it off, some new scaly antagonists had entered the scene for the humans of Beach City.
A Geo-weapon, a runaway fusion, a pair of sly serpents, and more monsters than ever ...
Alright, Everypony, time to get to work!
Chapters (22)