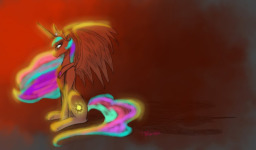 Source
When the sun rises...does the nightmare end?
"I still have the book."
It has been one month since the death of Pinkamina, yet her presence is still felt everywhere. The elements are all but gone, Applejack is all that remains. The element of honesty is haunted by that day...only thinking of the one she left behind. When the sun rises, it covers all. Those who get close will burn. But what happens when somepony challenges the light? Dominion over death is a powerful thing...
(The sequel to "The End of a Nightmare (A Grimdark Finale). Prior reading is encouraged, but not required)
(Cover art by Sketchygrl)
Chapters (2)