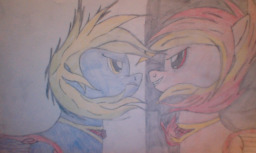 Source
SolarFlash is a timid pony mostly scared of other pony's. He left the big city to get away from prying eyes because of his history with his split personality.Though things get worse when a rainbow maned pony doesn't leave him alone.
And after putting his friend to near death.
Will he keep the other half from getting loose or will he hurt the pony's around him?
Don't bother reading in need of serious fixing.
Chapters (3)