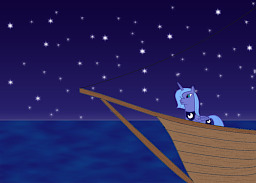 Ponies throughout all of Equestria have shown some resistance against Luna's return to her throne. She doesn't seem to blame them, and has lately been growing depressed. Some of the radical groups in the society have publicly protested, some rioted, and some may go that extra step further...
Comments may contain spoilers. You've been warned.
A huge thanks to Scipio Austra for the image (I don't think he's on this site, but I am open to corrections).
Chapters (14)