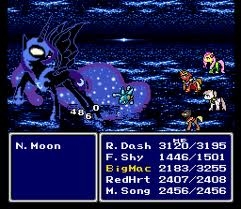 Leon had been looking forward to this trip to Equestria for months; a few days with his best friends, hanging out and playing even more games side by side with Princess Luna and Edward Stanton.
What no one suspects is that the gaming is going to a whole new level, one that will endanger those caught in the unexpected storm. Unexpectedly, Leon, Eddy, and Spike are whisked away to a whole new world... a deadly new world, one teeming with hazards and monsters like none of the gang has seen - outside of a game, of course.
This is a side-story to the original Let's play some games with Leon, Luna, and Eddy (formerly Leon, Luna, and eddy play World of Tanks). You might not understand all the characters and references if you haven't read the original story.
Chapters (8)