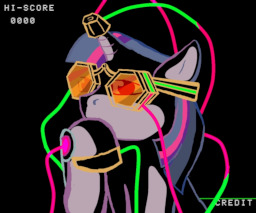 A slipstream is the turbulence behind a force moving trough a medium, it's also the name of a short-lived science fiction movement focused on blurring the borders between science fiction and the mainstream. Neither definition have any direct connection to this story...
Magic disperses light in a peculiarly hexagonal way. You find traces of this pattern in the aura that appears whenever a unicorn works her craft. Even the most skilled of pony illusionists can't escape the fragmented edges that reveal her tricks to the trained eye.
As such, natural shapes are no problem to replicate magically. A unicorns thaumaturgical aura sparkles and sways in a way that mimics the shape of turbulent water and the rhythm of a gust of wind, but geometric shapes are more problematic. In the edges of squares, errant magic burn the air into angry sparks that can be concealed, but only with great difficulty and an intuitive understanding of gradients that only the most artistic of unicorns can claim to posses.
This is a long way of saying: There is no way in tartarus that any normal unicorn could store enough magic in the air to power a game centred entirely around shooting pixels.
Chapters (1)