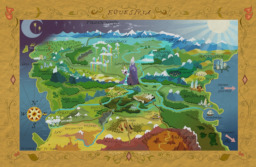 Source
With the release of Season 4, this Encyclopedia is to be considered outdated.
Equestria. A land we know, a land we love. Or so we think. But do we really know it? What stories lie hidden behind the veil of time? What miraculous places, what strange creatures yet wait to be discovered?
Meet Ink Blot, senior librarian of Canterlot and his life's work in making: Ink Blot's Unassorted Encyclopedia of Absolutely Everything (Ever). Article by article, let him unravel his homeworld to you. And who knows - historians lie. Maybe you know a story that he's never heard of?
A collection of headcanons concerning Equestrian history and geography, and an invitation for dicussion and exchange of ideas. Set in a fully humanized Equestria and aimed to portray a more serious background in the style of classical fantasy novels.
Chapters (17)