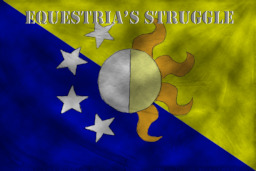 Source
Once a land dotted by patch-work nation states, Equestria was forged into a single nation by the Princesses Celestia and Luna thousands of years ago. The two Princesses were able to keep Equestria safe for a time, but Luna's transformation into Nightmare Moon sent the fledgling nation back centuries. Equestria suffered greatly during those years and recovered slowly while being besieged on all sides. With Luna returning from her banishment and the reclamation of the old Crystal Empire, the Age of the Princesses began and Equestria entered a new golden age. Other nations have became uneasy of Equestria's new found strength. War looms on the horizon once again but Equestria is ready. We are ready.
This series follows the various members of the 20th ERAD and their achievements.
* Some character's are not mine and belong to their respective owners.
*Anything linked I do not claim ownership over, EXCEPT my pictures.
*If there are any mistakes, please point them out as I am SURE I made a few somewhere. Constructive criticism is welcomed.
Visual references for the various tanks, characters, etc. can be found here ---> HERE
Chapters (8)