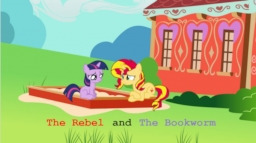 THIS IS A RE-WRITE OF MY OTHER STORY UNDER THE SAME TITLE
Instead of fleeing to the human realm, Sunset decides to talk to Celestia, thus causing her to stay in Equestria. As she continues her studies, Celestia gets a new student.
The young purple prodigy, Twilight Sparkle!
Celestia tasks her with something she is not too keen about: taking care of Twilight. All Sunset wants to do is study magic with Celestia, so why does she have to do something so annoying? However, Sunset will soon learn that life isn't just all about magic and learning.
Rated "Teen" because of themes, language, and a bit of violence. Sex tag because of raunchy/steamy innuendos. Violence tag because of light descriptions of violence and injuries.
Chapters (2)