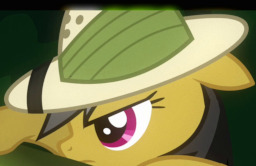 This story is a sequel to The Palace of Riddles
---
Daring Do has found the Spear of Light, but Ahuizotl is already on his way to the Necklace of Nightmares. The stakes are higher than they've ever been before, and she, Somnambula, Ink, and Quibble Pants must work together (and have a lot of hope) if they're going to stop him.
---
Part of my Familiar Trilogy:
A Familiar Feeling
Somnambula meets Daring Do, discovers her familiar, and runs into the sphinx again, all in one day. One very weird day.
The Palace of Riddles
Daring Do must navigate an ancient, riddle-filled palace, so she calls on two friends who are much better with puzzles than her to help.
Light and Shadow
You are here.
Chapters (1)