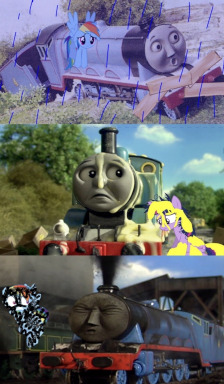 A storm came to Sodor and Rainbow Dash and Gordon are in for a real breeze literally.In a farm yard,A farmer has finished a shed.Bug,It was too light and was gone with the wind.
Twilight missed breakfast after she and Thomas went to the quarry to help Bill,Ben,And Boco.Later,Twilight got her breakfast.But,Not the way she expected.
Rainbow Dash gave Gordon too much bad coal which caused his funnel to get clogged.And now,He is sneezing nonstop covering everyone in coal dust.
Chapters (3)