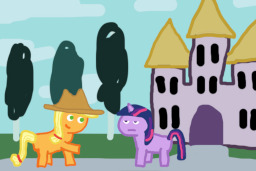 After receiving her acceptance letter for Princess Celestia's School for Gifted Unicorns, young Applejack is excited to begin her studies, despite knowing nothing about magic. What she lacks in knowledge and skill, she makes up for with enthusiasm!
Alternate universe based on contrived coincidences and stupidity. Don't think about this one too hard.
6th place in the September 2014 Write-Off, "There is Magic in Everything."
Chapters (1)