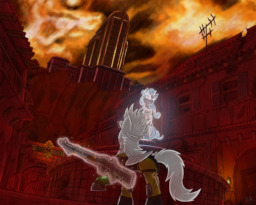 Source
This story is a sequel to Fallout Equestria: Influx
---
Fruity finds an old bag of letters addressed to Crystal's mother which sparks renewed hope in the cybernetic mare that she may now be able to find out what became of her mother. This then leads to them discovering the Sierra Maredre Casino.
What had begun as a simple exploration to find answers evolves into a fight for survival against a pony determined to us them for his own gain, the poisonous environment and the local creatures of the old resort.
Can they survive the dangers of the Maredre or will they fall victim to the lure of what the Casino contains?
(Cover art was from my previous attempt at this before I abandoned it to write Influx)
Chapters (3)