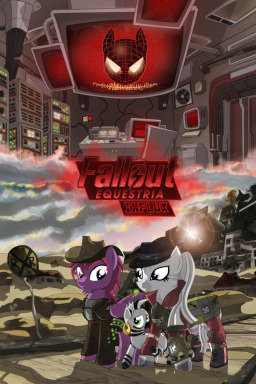 Source
This is a Fallout Equestria (primarily) and Terminator crossover.
Equestria gripped by war and growing more desperate by the day required for more radical means to wage war or to disrupt the enemy. The Ministry of Awesome wanted to get a spy, after Zecora's uncovering, into the heart of the enemy to either kill the leader or sabotage them enough to cripple them so Equestria could succeed but the spy would have to be perfect and so a back door project was started. They look into creating their own half machine and half biological spies and come up with the perfect blend of steel and flesh.
Project Infiltrator.
But what happens when the fruits of this labour wakes up in a world destroyed by war and discovers that its not what it remembers it is? There is one thing that it knows for certain. It wants answers.
PS. After some revision I've been informed that the Ministry of Awesome dealt with advanced technology and spies and thus the story has been edited.
PPS. This is not a Prequel to Broken Steel despite what a couple of websites that link back to this story say.
(So sorry for the lame description, if anyone can suggest a better description please let me know. Chapters 1 to 12 Edited by Alycorn~(CF), New Editor Double R Forrest )
Chapters (18)