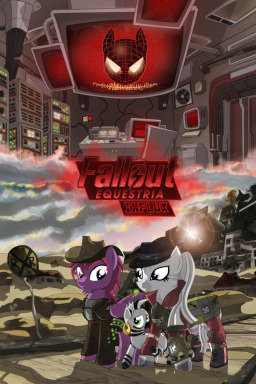 Source
This is a Fallout Equestria (primarily) and Terminator crossover.
As the war between Equestria and the zebras pressed on, many members of the Ministries conceived of desperate strategies to end it through magical and technological creations of questionable nature. One of these was Project Infiltrator, a top secret project of the Ministry of Awesome. It's goal: to create a super spy that was the perfect blend of pony and machine. But just as its first subject was ready, the megaspells dropped, destroying Equestria and creating the Wasteland.
190 years later, Crystal Eclair awakens in a world of ruin and violence, completely clueless as to what happened to Equestria and herself. Her confusion grows into horror as she discovers that she is no longer a pony, but now a cybernetic zebra. With no other choice left, she sets out to find answers to her predicament. How will she handle the truth if she finds it? Will she find friends who can help her in a world that trusts no one? And what if those who have done this to her are still out there, eager for her to serve a new sinister purpose?
PS. This is not a Prequel to Broken Steel despite what a couple of websites that link back to this story say.
(Chapters 1 to 12 Edited by Alycorn~(CF), New Editor Double R Forrest. New description credit to Double R Forrest )
Chapters (21)