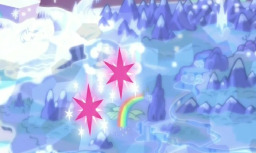 When some of her friends develop a relationship after spending a few days out to solve a friendship problem, without finding any friendship problem in the first place, Twilight Sparkle start to think something is wrong with the Cutie Map. She's mostly right.
Warning: Story is very silly and we can only hope it never turns out to be canon.
Rated T for some sexual references.
Proofread by the awesome Nephox Venom.
EDIT: Featured in 18/10/2016! YAY! THANKS GUYS!
Chapters (1)