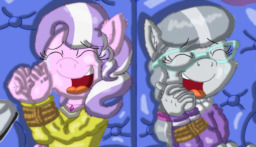 Diamond Tiara and Silver Spoon are hosting a slumber party, guaranteed to be all sorts of entertaining!
Babs is the first to arrive, and she notices something off about how the hosts are acting, but thinks nothing of it. It's not until she accidentally discovers all the tickle toys that they have in their room that things get awkward.
Of course, seeing an opportunity for fun, Babs decides to take the sleepover in a different direction...
Commission for Blobblegum on FA.
Based off pictures done by Horrormage.
All characters are depicted as adults in this story.
Chapters (1)