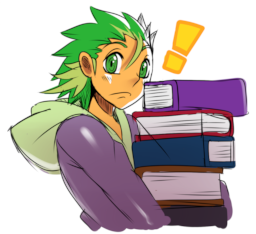 [This is another random idea I had, except this one's going to play out like an anime]
Spike Ashe, he is what should be considered as a normal boy in the middle of his first year of high school. But like most of the stories and comics he reads, things are never how they seem.
Spike has powers, little things like having skin as hard as titanium, having amazing speed, agility and strength, the ability to grow wings and shoot fire from his hands and mouth and being able to sense the essence of life itself if he tries hard enough.
He's had these powers since he was very young and has always known how to use them. But because of his powers he has secluded himself from others. Fearing what might happen if his powers were found, and not for his own skin, but for his family. As such he has a reputation of never speaking and even coming across as cold.
But like all things, his life changed drastically when he witnesses a girl about to be run over by a car.
Art belongs to ss2sonic
Chapters (1)