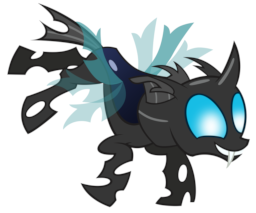 Princess Celestia goes off on a diplomatic trip to the Griffin kingdom for the day, leaving Luna in charge. Meanwhile, Shadow Shell is sick of the usual shit. Find pony, knock them out, disguise as them, aimlessly roam around Canterlot looking for food, rinse and repeat.
Today, though, Princess Celestia is off to stop a war or something, the perfect opportunity for Shadow to finally have some fun in this boring-ass town. It's a fool proof, step by step plan:
1) Sneak into castle
2)Disguise as Celestia
3)Do absolutely nothing for an entire day
4) Leg it
I mean, what could go wrong?
Chapters (3)