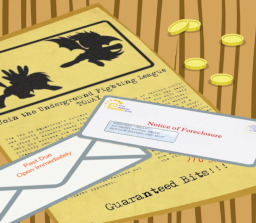 Source
Midnight Dream is your average bat pony. She's young, athletic, and agile. She has fangs, tufted ears, and leathery wings. She lives in Hollow Shades. But unlike most bat ponies, she's not in the Night Guard; instead opting to follow her special talent and fulfill her dream.
As it turns out, gardening doesn't pay nearly as well as the military does. With bills constantly piling up and demand for gardeners in a town full of soldiers at an all time low, she's desperate for whatever bits she can get her hooves on. And it just so happens there's a new "underground" fighting tournament in town that's paying rather handsomely.
Content Advisory: Don't let the tags or synopsis fool you: this story's a clopfic through and through—it just happens to use some of the more bizarre, if nonsexual, fetishes out there. Fetishes which include: flattening, body compression, vampirism, hypnosis, and oddly done third person narration.
Chapters (13)