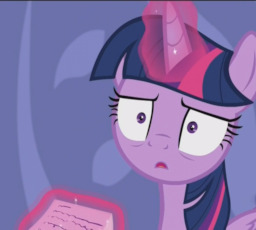 ...or, alternatively, "Boy, Twilight Really Gets Around!"
A collection of very short snippets, ficlets, random ideas, and other musings that I've been collecting for years now, even while I was 'inactive' as a horseword writer. A lot of these come from discussing episodes, character motivation, and headcanons with a number of other different brony friends and writers.
Surgeon General's Warning:
For your convenience—no matter the character, setting, or subject being explored—all of these stories have been neatly stored and delivered in a standard Shipping container.
Though they are largely unconnected, some have developed running themes and jokes. Most of these stories center around Twilight Sparkle being the straight mare to the madness that is her romantic entanglements and life in Ponyville. They explore different temperaments and interpretations of our favorite nerd: sometimes adorkably inexperienced, sometimes confident, sometimes uncannily worldy.
Each one will feature an Author's Note that explains in better detail what's wrong with me the motivation, discussion, or episode that led to its creation. Most of these were written off the cuff on Skype or Hangouts, so they're mostly just for fun and not very detailed or polished; but I still enjoyed how they turned out!
Enjoy!
Chapters (6)