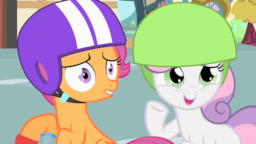 WARNING: Incomprehensibly cute fillies driving recklessly
Sweetie Belle and Scootaloo, due to a teleportation spell by Twilight gone awry, pop up inside another world. Their surroundings are somewhat strange, though. Why were they in a metal carriage?
What's more is that it can move, after some tinkering from the mischievous fillies, and they decide to go for a ride. After all, it's not like something like this happens every day. Cutie Mark Crusader UFO drivers! Yay! Disastrous and somewhat hilarious catastrophes ensue.
(A one-shot that I wrote while bored. Hope it entertains! I guess you could call it a thank you for my 150 followers. Also, I spy with my little eye numerous references! Can you spot them all? If you can, then the Great Potato dubs you to be best human.)
Chapters (1)