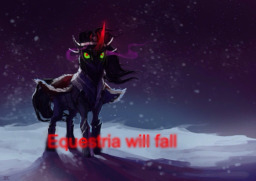 King Sombra has returned. He's stronger than ever. And he's not out to take the Crystal Empire this time- he's out to take over all of Equestria, and he's starting with Ponyville, where there's no Crystal Heart protecting the town. Looks like Twilight and her friends are going to have to fight him up close and personal... But are they strong enough to beat him? Looks like it's gonna be another one of those days for Twilight and her friends...
Suggested official rating: PG-13 for violence
Notice: The rating of this story may change to Mature as I continue working on it.
A shout-out to whoever did the original artwork, it's awesome.
Chapters (2)