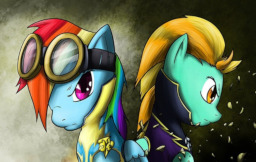 "Winning isn't everything, it's just the only thing that matters."
She had been a star student of some of the best flight teachers in Equestria. She claimed victory in so many schoolyard races. Her name spoke of speed unmatched.
For the first time in her life, she had lost.
She found herself weeded out of the crop of new rookies accepted for the second stage of training. She couldn't understand, she was the best at everything a Pegasus was known for since she was a child.
But now, she's in it for more than first place.
Recent note: So, I was given some advice on my story that I found needed to be followed. Soooo, I followed it. I edited chapter one and will be re-releasing chapter two soon.
Thanks for dealing with this.
Chapters (2)