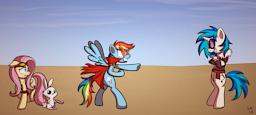 Being trapped underground for years and digging tunnels is all she knows.That and Rainbow Dash constantly making breaks for the surface she is always telling Fluttershy about.
When her life is thrown upside down by the appearance of a mechanical creature crashing through the ceiling of her home, the downward spiral of their lives becomes a fantastic journey to see the world. To carve their own path. Cause that's the Spiral Way. The way of Team Hurricane!
WHO THE HAY DO YOU THINK I AM?!!
Chapters (7)