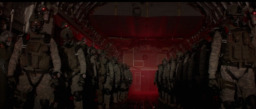 REWRITING, SORRY BUT I THINK THE STORY NEEDS TO BE REWRITTEN.
September, 11, 2015. The Soviet Union decides to invade Europe since their collapse was breaking near. They thought it would be good to boosts the peoples morale and make them think about joining the war instead. The Warsaw pact was no more at that time and the Soviet Union was held together by giving what the people want. Although they did give their people better homes and food.
They still wanted more. The collapse was near and the leader of the Soviet Union did what he thought was reasonable. Instead of nuclear war he decided to conventional arms. The Soviet Union quickly gathered their forces in Europe and put it up on all news stations. The U.S and N.A.T.O agreed for conventional arms instead of nukes since it would lead to the end of humanity as we know it, or at least destroy most of humanity.
November, 25, 2015. United States Marine's are boarding a flight to St. Petersburg in the Soviet Union. The plan was to H.A.L.O jump into the outskirts of the town and start from there. But what happens when they don't end up in St. Petersburg, but in Equestria. The only difference in Equestria is that the land seems more dead and all the grass is nothing but black or dead. The houses are destroyed and the Castle in ruins. Oh and they were also turned into ponies.
Chapters (1)