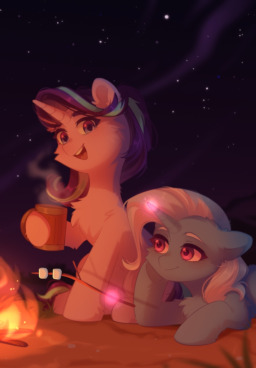 It's been years since Twilight took over as sole princess alongside her friends to help. Starlight's been headmare of the friendship school for a few years, and all seems perfect with no new threats or problems... that is, until the princess dissapears. No one knows where Twilight is. Celestia and Luna take her place for the time being, but it does not solve the problem that lingers in everycreature's minds.
The princess of friendship is gone.
Embarking on a journey, Starlight, alongside her best friend Trixie, look for the missing princess; a tale of mysteries, ancient beings and a reckoning from the past...
------------
This is created alongside a symphonic poem I'm composing over in my YouTube channel. I will upload the chapter alongside the musical piece from the symphonic poem that can be listened to alongside the chapter. If you click Opening and Main Theme you can listen to the first piece of the symphonic poem!
The link to the pieces will be included both on the chapter's writer's notes as well as on the title of the chapter or location where the piece accompanies the story.
Amazing artwork by @_floweryoutoday!
https://twitter.com/_floweryoutoday
Chapters (7)